Covid-19 Announcements and Information
November 17, 2020 – COVID-19 Update
Dear Beloved TDA Family, 
I just wanted to give a short COVID-19 update as Mayor Quinton Lucas shared the latest COVID-19 restrictions. So far the updated restrictions do not affect schools directly, however, our leadership team is constantly tracking with the latest update and restrictions. 
As coronavirus cases continue to rise in Kansas City and schools and businesses are shutting down, we would like to encourage our students, families, and staff to be extra vigilant in keeping our current school rules. We want to do all that we can to keep our school meeting in person. 
Sickness protocol – We are extremely GRATEFUL to have our school in person. We are GRATEFUL that we have very low cases in our midst, and hardly, if any, have spread through the school. Our parents, students, staff, and admin team have been doing an EXCELLENT job with our sickness protocols. THANK YOU to all of you!!! Although students need to stay out more than usual for sicknesses, the protocol has been working and we have not had the virus spread through our school.
Masks – I want to thank all of our staff and students who have been doing an AMAZING JOB all year long, keeping on masks and being mindful of others. I know that this puts a toll on everyone after awhile, however, it has been keeping our school HEALTHY and OPEN. We are asking that we continue and be extra vigilant about this during this season as cases are rising and the flu season is around the corner. 
Please continue to wear your masks when you cannot socially distance, as soon as you walk into the building.
Please wear your masks properly, OVER THE NOSE. 
Please remind each other (in a kind and friendly way, of course) to pull up masks when others forget.
Proactive actions – We have been planning ahead and are proactive by extending our Thanksgiving break and delaying our return after Christmas break. We have separated our Christmas Service into two separate nights to lessen the amount of people per Worship Service. 
PRAYERS – Most importantly, let's continue to agree in prayer that God would keep our school open. After all of the safety measures that we are taking, our trust is really in the Lord! We spent much of this last Sunday prayer meeting praying that God would keep our school open in person! We believe that God has given us a supernatural grace over this campus! We prayed that the blood of Jesus will cover us and our school. 
Thank you for being the most amazing school EVER. We absolutely LOVE our families and staff. My heart is extremely moved when I see how hard everyone is trying to honor one another and love each other well. I believe that we are blessing the Father's heart. I believe that we are ARISING and SHINING. Come be glorified HERE, Jesus!
Supernatural grace to each of us as we walk out this season well. 
Grateful for each of you,
Emily Lee
Principal | The Daniel Academy
July 30, 2020 – In-Person School – NEW Start Date Announcement
As we approach August, and the start of the 2020-2021 school year, please know that our goal is to have in-person learning for the entire 2020-2021 school year. 
The TDA Administration team has been watching our national, state, and local government for changes in policies and suggestions regarding the re-opening of schools. A number of our local districts have opted to postpone the start of school to September 8, after labor day. Still others plan on opening for online school only. The driving force for these measures are the rising Covid-19 cases in the Kansas City Metro area.
We are respectful of our government, and appreciate the proactive decisions of local school districts. And while rising Covid-19 cases are a real and alarming concern, we recognize TDA does not face the same challenges a public school might have. Most apparent would be the number of overall students. Our smaller student body and corresponding class sizes, make social distancing much more doable. 
We are pushing back our school start date by 2 weeks, to August 26. Our intention is to begin in-person learning on that date. We have labored all summer long to get our school ready for re-opening in this very unique environment. Classrooms have been rearranged, lunch/recess procedures have been changed, and a host of various policies have been prepared. However, we feel these 2 additional weeks will allow us to further prepare our school, solidify policies, and outline contingency plans for a successful year of in-person teaching. 
We don't take lightly the numerous changes and inconveniences a delayed school start date may cause your family. This decision was made as a result of a great deal of prayer and discussion, and our administration feels we will be that much more prepared by August 26.
In that 2 week time period, we also hope and pray that the overall Covid-19 numbers will plateau and eventually decrease. We will reassess before then, but plan to start our 2020-2021 school year, in-person, at that time.
TDA Journey Into the Digital Classroom
We broke for Spring Break on March 12, 2020, and had one of the most odd Spring Breaks ever, at home, in isolation. We watched the news, as literally, every single day, was an earth-shaking country wide, state wide, or city wide change. In a matter of days, we went from planning our Spring Break vacation to social distancing and shelter-at-home. Somewhere in the middle of all of that, a myriad of school decisions were made, on how to move forward in this new world.
Our executive leadership met on 3/21. This was at the very beginning of 'social distancing', and to the best of our understanding, we tried to stay away from each other. Ten of us, sat in a huge circle, and discussed what to do next for our school. We talked, we prayed, we wrestled with different options…and decided to 'soft' launch our online school on 3/24. In a 72 hour blur of madness, we selected an LMS, created users and settings, and started rolling out video tutorials for our teachers and parents. We also assembled a small group of helpers and emptied out every single desk and locker into a bucket or trash bag. The very next day we had parents come by at allotted time frames to pick up their belongings. By that evening, students had all of their books, worksheets, and notebooks to finish off the school year!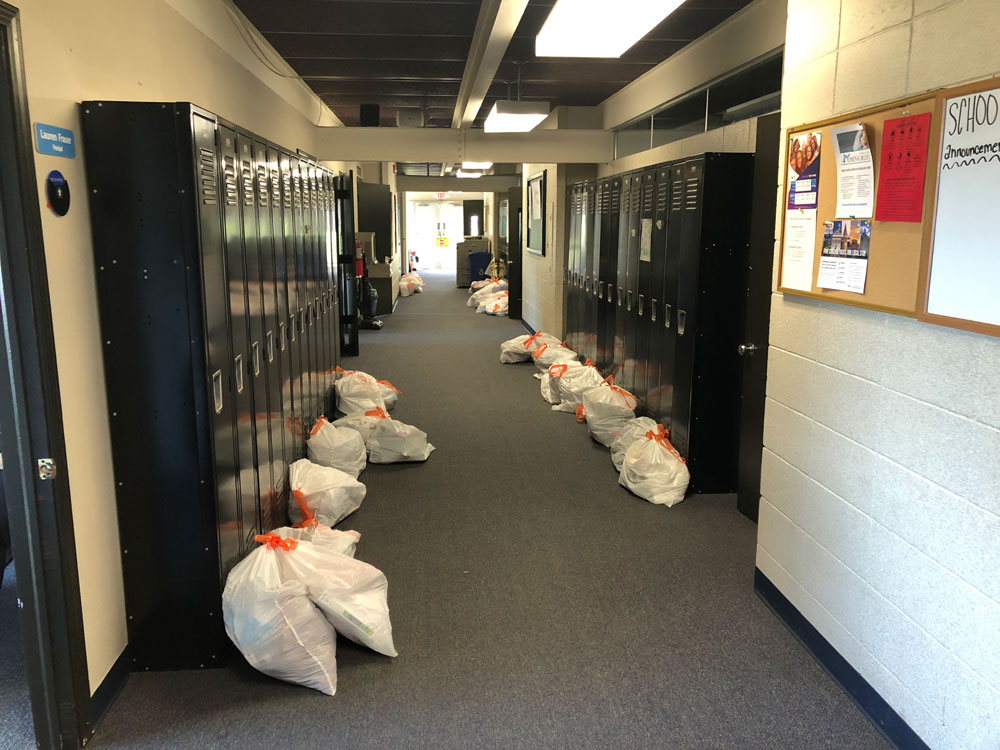 Our 'soft' launch included the creation of a virtual classroom for each class, 1 welcome video from each teacher, and a few assignments posted…just for everyone to get into the swing of things. We held training meetings, rolled out more video tutorials, and officially launched our ONLINE school on 3/30, with our first LIVE stream class! It has been a massive tornado of a learning curve, for teachers, students, and parents! Our inboxes are full, and our brains are bursting…but school IS HAPPENING. There have been a ton of hiccups along the way, and of course we anticipate more, as we continue to move forward. But classes are meeting, office hours are happening, classwork is being assigned, homework is being done and submitted digitally…it's all moving forward!
Online School – Best Practices
This simple little Best Practices Portal is meant for us to share, with ourselves and whoever else is interested, all that we are learning. We know that any help we can give to each other, in this time of global crises, is good help that we can all appreciate.
We decided on using Google Classroom and the full G-Suite of tools bundled together. We looked at Schoology, zoom, and a handful of other tools…but made a decision to go with Google because our students were already using Google Docs, Sheets, Slides, and Drive. And while Zoom sounded like a fantastic conferencing platform, we kept to Google Meet, so as to not have to introduce yet another platform to our already overwhelmed staff, faculty, and families.
So…if our Google Classroom Adventure of selection, activation, roll out, and training is something that might benefit you…please read on! We've broken our collection into 4 broad categories:
For All School

For School Admin

For Teachers

For Families (Parents and Students)
Address
The Daniel Academy
310 W 106th St.
Kansas City MO. 64114